Rules and regulations
By purchasing tickets and entering the Automobil and Tuning Show - hereinafter: the event - all visitors agree to be bound by the following terms and conditions.
COVID19 security rules and regulations
The epidemiological emergency due to the coronavirus in March 2020 regulated by Government Decree 282/2020. was canceled on June 17, 2020, and events are allowed to be held again in Hungary from that date. Government Decree 285/2020 (VI. 17.) restricts only the holding of musical and dance events, but also only over 500 people. AMTS is not a music-dance event, so like other exhibitions of Hungexpo can be held without restriction.
Of course as responsible organizers, the health and safety of our visitors is the most important thing for us, for this purpose we have taken a number of measures according to the recommendations of the Operational Staff and the National Chief Medical Officer, which can be found below.
Huge active outdoor and indoor event space spread over a total of 12 acres
More separated stand layout in the pavilions, significantly wider walkways for visitors
Entertainment programs (drift, offroad, shows, beauty pageants, etc.) almost exclusively outdoors
Limited number of daily tickets and participants on each day of the event
Online sweepstakes registration - there is no need to queue to submit sweepstakes coupons this year, registration will soon be available online
COVID19 Rules for Visitors and Exhibitors (last updated 18 August 2020)
Only healthy, asymptomatic people who feel healthy can attend the event
Frequent, thorough soap hand washing or alcoholic hand disinfection is especially important, which is possible in the hand sanitizers placed in the washrooms of our event and in the pavilions.
Avoid unnecessary direct close body contact, it is recommended to keep the 1.5 meter distance between participants as much as possible
Where this is not possible, it is recommended to wear a mask, especially for indoor event venues
In order to keep the distance, at ticket offices, buffets, etc. pay attention to the safety signs assigned to visitors on the floor. If possible, we recommend that all our visitors purchase tickets online.
Avoid touching your face, eyes, mouth
All our visitors are obliged to follow the rules of cough etiquette (use of a paper handkerchief, coughing, sneezing into the elbow bend of the bent arm)
If a participant in the event shows symptoms of infection, our security service has the right to refuse entry.
It is important that our policies always reflect the current situation, whatever changes are made to the epidemiological situation, we will strictly follow the guidelines of the relevant state and central authorities, and we will follow any measures they propose.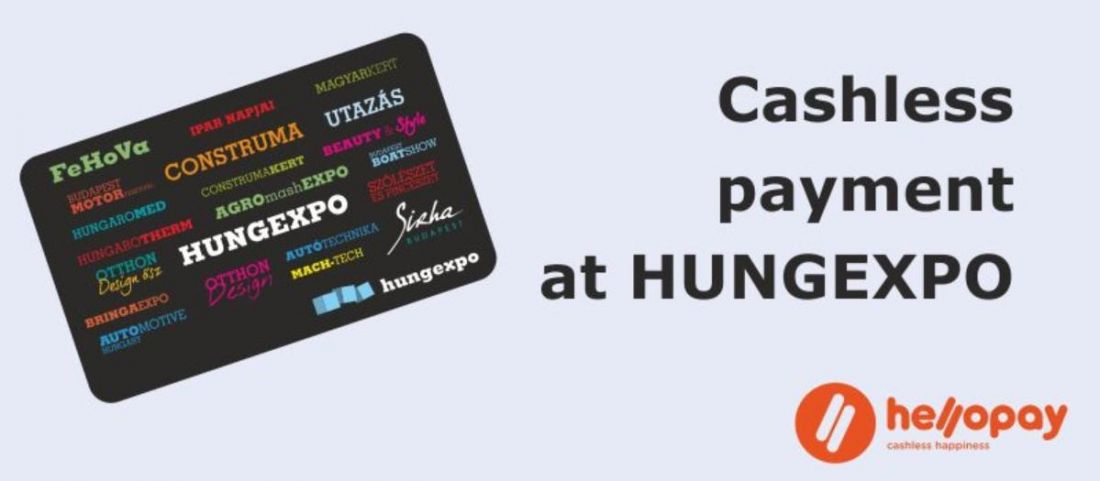 As of January 1, 2019, HUNGEXPO Budapest Fair Center has become completely cash-free regarding it's buffets and restaurants and parking. So if you want to eat or park your car at the venue, you can pay only with the use of the HelloPay "Cashless system", by a touch-to-pay bank card or HelloPay card at dining areas at the location.
The easiest way to bring a pay-pass bankcard with you to pay at the location. If you have only cash, you can buy a HelloPay card and top it up with balance anytime during the event. For the location of top-up points, please check our map following this link.
Important: cashless payment is only for restaurants and parking. You can still pay by cash at booths of exhibitors at the show.

Questions and answers related to the use of the HelloPay card
---
---
---
---
---
Cashless payment at Hungexpo
---
---
Subscribe on our newsletter
---